MEMBERS THE NEXT LOCAL MEETING IS TUESDAY, July 1st AT 7 P.M. LOCATED AT 1513 PAULSEN ST. OFFICERS MEET AT 5:30 P.M.

Pres. Satterfield, B.A. Roelle, Dir. Ken Carter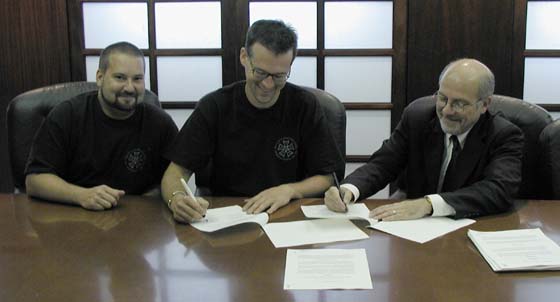 Contract signing at the Lucas, our first Collective Bargaining Agreement
Thanks to all of you who worked the stage build and concerts, June 4 - 9 at the Sea Pines venue. Conditions were tough and created a less than ideal situation for us to work in. We pulled together and took care of business as a team.
If we are to succeed in future endeavors the members of this Local need to focus on working as a team and keep individual differences out of the work environment. Those who cannot work as a team for the greater good make us weak. If you are on a job and you have issues, bring them to your steward, or save it for the meeting. Please avoid compromising your Local for personal gain on any jobsite. Those who cannot keep it under control will suffer the consequences of not being a team player and/or a good brother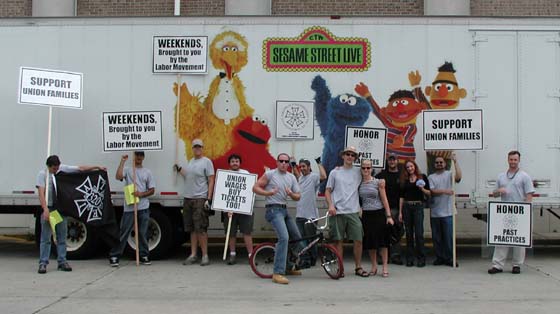 Our Brothers pose with some friends during the picket of the Civic Center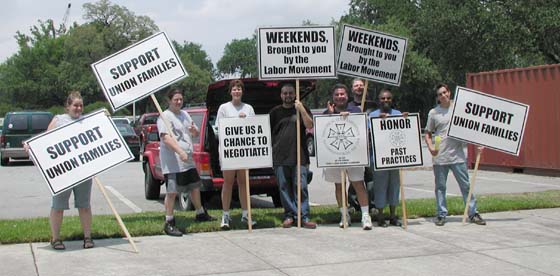 Local 320 pickets the Civic Center, May 17, 2003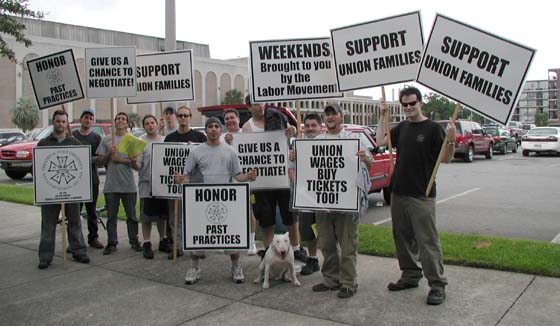 ANY MEMBER 2 OR MORE QUARTERS IN ARREARS WILL BE EXPELLED AT THIS MEETING UNLESS DUES ARE PAID. IF YOU BELIEVE YOU MAY BE AT RISK YOU NEED TO CALL BRO. DAVID MORRISON IMMEDIATELY (912.356.9555)